Interlaken is one of the most convenient places for hiking in the Bernese Oberland. You have easy access by car or train to spectacular hikes in every direction. Based on our experience living and hiking in Switzerland since 2005, we've selected the very best hikes near Interlaken for casual hikers and families.
What to expect at these Interlaken hikes
Each hike is about couple hours long and suitable for the average hiker with sturdy hiking shoes. We also have shorter and longer alternatives in the linked detailed posts. As always, check the weather and trail conditions and operating times before heading out. (Unsure? See our Swiss Hiking 101 posts).
How much does hiking cost in Interlaken
To access the hikes on this list, you'll need to ride mountain transport, like a cable car or funicular. The prices for these vary, but range between CHF 25-80 per person. Children aged 6-15 are 50%. Children under 6 are free. Dogs are welcome on most mountain transport. Large dogs usually need a dog ticket. Individual prices are noted in the detailed posts for each hike.
Discount Travel Passes
If you have a Swiss travel card or pass, you can save a lot of money. For example, the Berner Oberland Region Pass includes all public transportation and most mountain transport in the Bernese Oberland region, including the hikes on this list. Most are discounted 50% with the Swiss Travel Pass (except the Giessbach funicular).
See our budget tips for more info about making Swiss travel more affordable.
1. Schynige Platte Ridge Trail
Though technically part of the Jungfrau Region, this mountain is so close to Interlaken, you can walk to the base of it in 30 mins (and drive there in 5). A vintage mountain train carries you to the top, where you'll find a restaurant with a outdoor terrace.
We recommend the spectacular ridge trail, a moderate 6km loop that has views of the bright blue lakes surrounding Interlaken and on the other side, the famous Eiger peak and its neighbors.
See details for Schynige Platte Ridge Trail
2. Niederhorn Ridge Trail
Just a 10 min drive or bus ride of Interlaken, you can start your journey to the Niederhorn peak, first on a funicular, then on gondola. At 1950m, there is a gorgeous viewpoint over the cliffs, a restaurant with a view and a small playground. We suggest the ridge trail and if time permits, a scooter ride down the mountain. You can also add on the Beatus caves, an impressive cave system at the base of mountain.
See details for Niederhorn Ridge Trail
3. Mt Niesen Panorama Trail
Two funicular trains take you up to 2362m, where there is an observation deck, restaurant and playground. We like the hike to the middle station that starts along the ridge and wraps around the mountain with constant views of the lakes and surrounding peaks.
See details for Mt Niesen hike
4. Giessbach Waterfalls
This outing starts with a boat ride across the lake, then a funicular train up to the historic Giessbach hotel & restaurant that look over the falls. Then you can hike up and down the falls as much or little as you like, even walking under them at one point.
See details for Giessbach waterfalls
5. Hasliberg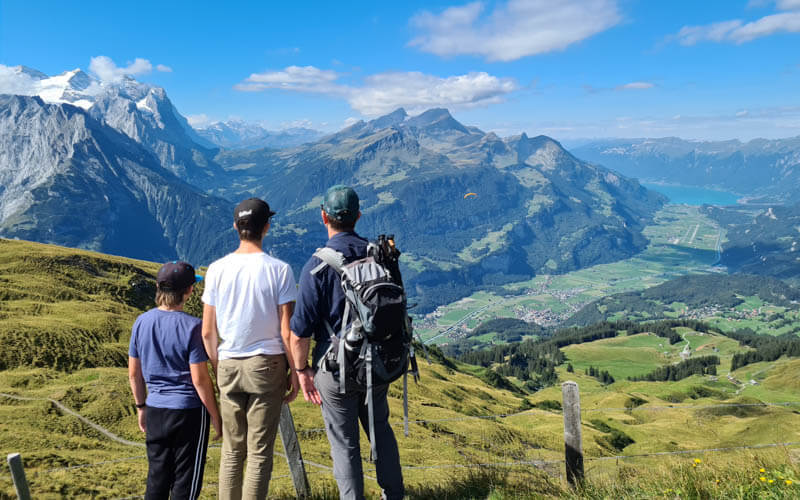 So many options at Hasliberg, a large mountain area east of Interlaken. No matter which hike you choose, definitely ride to the Alpen Tower at 2250m to catch a different perspective of Berner Oberland, even with Eiger in view.
If you're hiking with kids, you'll enjoy the Muggestutz storybook trail with fun activities along the 4 km path. At the end of this trail, you can continue walking on the Kugelweg, with elaborate marble runs along the trail. If you want a regular hike, we love the Horizontweg that traverses the mountain, ending at an alpine lake (11k).
6. Oeschinensee alpine lake
This famous lake is a bit farther from Interlaken than the other options (40 mins by car, 1hr10 by train). But it's 100% worth the extra travel time.
It's an easy 2km stroll on a dirt road out to the lake. There you'll find restaurants, row boats, and lots of room to wander and picnic. If you want a longer hike, do the Panorama Trail high above the lake, passing several waterfalls and stopping at the hut for refreshments.
See details for Oeschinensee lake
7. Grindelwald Bachalpsee lake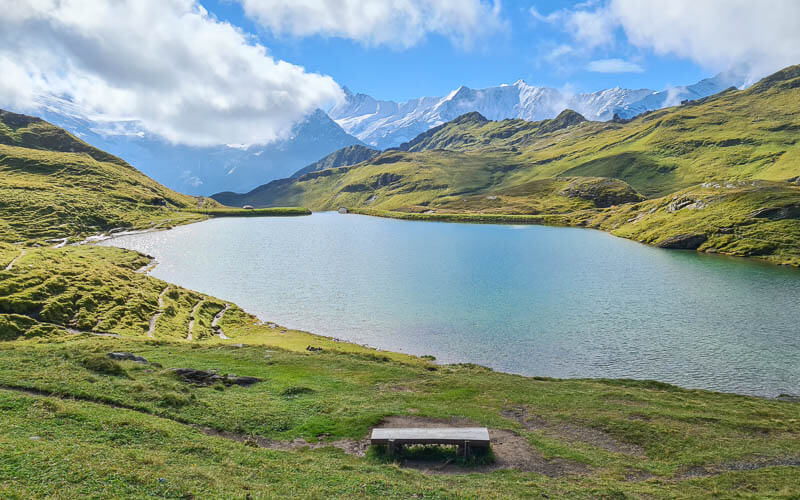 From Interlaken, it's easy to reach Grindelwald, where you have lots of beautiful hiking options. Our top pick in this area is the easy hike to the Bachalpsee alpine lake, perfect for families and casual hikers. For more fun, add on an epic zip line, mountain scooters and a big playground with mountain views.
See details for Grindelwald Bachalpsee hike

See also: Best hikes near Grindelwald
8. Mürren Mountain View trail
Interlaken is just a short train ride away from Lauterbrunnen, one of the most popular hiking areas in Switzerland. To avoid the biggest crowds, we suggest the Mürren Mountain View trail, which hikes across the mountain directly above the Lauterbrunnen valley.
The trail ends at a big playground and restaurant, a nice bonus for families. It's a rather short hike Add on a visit to the Schilthorn peak
See details for the Mürren Mountain view trail

See also: Best hikes near Lauterbrunnen
9. Brienzer Rothorn
If you are an experienced hiker, the best hike near Interlaken is the Brienzer Rothorn ridge trail. This trail has a few exposed sections and steep drop-offs. But it's a well built trail, suitable for average hikers with sturdy hiking shoes.
See details for Brienzer Rothorn ridge trail
10. Harder Kulm
The closest mountain to Interlaken is Harder Kulm. The Harderbahn funicular is located just a 5 minute walk from the Interlaken Ost train station and center of the Interlaken village. At the top of the funicular, there is a restaurant and viewing platform, where you can admire many mountains and lakes from a bird's eye view.
Although the views from Harder Kulm are spectacular, this is not my favorite place for hiking. Most trails leading from here are quite difficult and mostly in the forest without nice views. Casual hikers should choose another hike on this list. But adventurous hikers may be interested in the long 16km trek to Augstmatthorn (see trail details).
The trail to Augstmatterhorn is difficult and has exposed sections with steep drop offs. But it is a considered the "safer" alternative to the extremely dangerous full Hardergrat trail that goes all the way to Briener Rothorn.
How to travel to Interlaken
Interlaken is located in the center of Switzerland. You can easily reach it by car or train from any city in Switzerland. The main train station is Interlaken Ost (see on Google Maps). You can see the train schedule on SBB.ch or the SBB mobile app.
Travel time to Interlaken:
| | | |
| --- | --- | --- |
| From | by train | by car |
| Bern | 1h | 45mins |
| Lucerne | 1hr50 | 1h |
| Zürich airport | 2h10 | 1h40 |
| Basel airport | 2h25 | 1hr40 |
| Zermatt | 2h15 | 2h30 |
| Geneva airport | 2h | 2h10 |
What to bring on your hike
Most hikes on this list are relatively short and close to a mountain hut or cable car station where you can get food, drinks, shelter and help in an emergency. But it's best to be prepared.
For all hikes in Switzerland, we suggest bringing a day pack with water, snacks, warm layers and basic first aid kit. If you are hiking with children, see our Hiking Pack List for Kids
What to wear on a Swiss hike
Weather in Switzerland can be unpredictable. Even on a hot summer day, a storm can move in quickly, with wind and rain that leave you cold and wet.
So best to bring layers so you can easily add and remove clothing to adjust for the current conditions. In summer, we suggest bringing a medium weight fleece and good quality rain jacket.
For more detail, see What wear for hiking in Switzerland