Grindelwald has some of the best hiking in Switzerland, popular with both tourists and locals. We've spent many happy days hiking here with family and friends. So here are our favorite hikes in Grindelwald, with varying difficulty from an easy stroll for all ages and abilities to a challenging all day trek, more suitable for experienced hikers and teens. I hope you find something you like!
Note: If you are only staying in Grindelwald for a day or two, I suggest choosing hikes that can be accessed directly from Grindelwald, maximizing your mountain time, rather than doing hikes in the Lauterbrunnen valley next door, which can add an hour or more to your travel time.
Overview of Grindelwald
Grindelwald is an alpine village in the Jungfrau Region, right in the heart of Switzerland. See on Google Maps. It is easily accessed by train or car.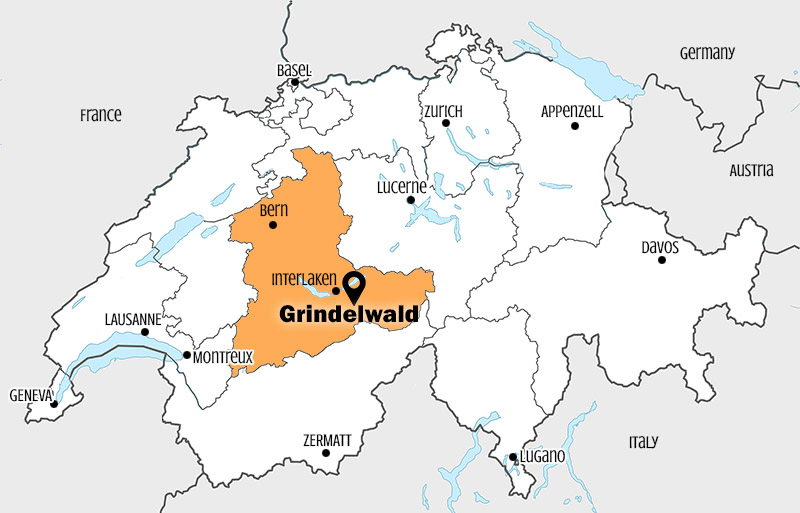 The Jungfrau region is split into two main valleys: Grindelwald on the east and Lauterbrunnen on the west, with a big mountain separating them. You can easily travel between the valleys by car, train or cable car. But it can be time consuming if your time is short.
On the map below, I've highlighted the four mountain areas serviced by mountain transport from the Grindelwald valley: Grindelwald First (gondola), Pfingstegg (cable car), Kleine Scheidegg (cogwheel train) & Männlichen (gondola). Below I suggest hikes in each of these areas.
How to get to Grindelwald
The Grindelwald village is easy to access by train or car. Where you park or exit the train, depends on where you plan to hike. So see the individual hiking posts for more specific directions.
By train: From Interlaken Ost, take a train to Grindelwald. Often this train goes to both Lauterbrunnen & Grindelwald, splitting in half once it reaches the Zweilütschinen stop. so make sure you are on the correct half of the trail. If you plan to ride the Männlichen gondola, you can get off at Grindelwald Terminal. Otherwise, ride one more stop to Grindelwald, which is close to the center of the village.
By car: Where you park in Grindelwald depends on what you are doing.
Easy hikes
1. Männlichen Royal Walk
For a short outing, you might like the Royal Walk up to the viewpoint over the entire Jungfrau Region. From the top of the Grindelwald-Männlichen gondola, its about a 20 min walk uphill to a big "crown" platform where you get the view shown below. At Männlichen there is a restaurant, playground and more views into the Lauterbrunnen valley. If you want to hike more, a few trails continue from here including the panorama trail to Kleine Scheidegg described below.
Hike: Easy • 40 mins • 1.75 km round trip • 120m up & down
See details for Männlichen Royal Walk
2. Panorama trail from Männlichen to Kleine Scheidegg
Ride the gondola from Grindelwald to Männlichen at 2200m. Here you'll find a restaurant, playground and gorgeous views into both the Grindelwald and Lauterbrunnen valley. The panorama trail starts here walking towards the Eiger and Jungfrau peaks. This relatively easy trail winds around the mountain on a dirt path that is a bit lumpy, but possible with an all-terrain stroller with sturdy wheels. You end at Kleine Scheidegg, where you'll find restaurants, gift shops and a cogwheel mountain train that will take you back to Grindewald.
Hike: Easy • 1.5 h • 4.7 km • 68 m up, 237 m down
See details for Männlichen-Kleine Scheidegg trail.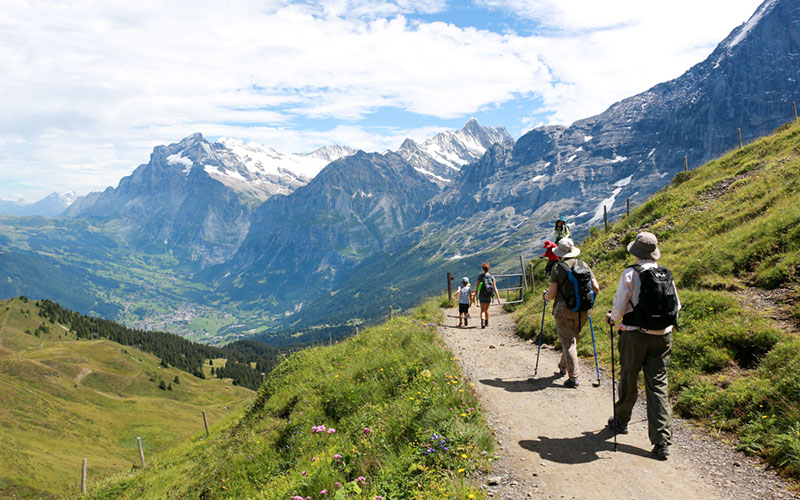 3. Bachalpsee alpine lake
This alpine lake is probably the most popular destination in the Grindelwald area. A gondola takes up to Grindelwald First at 2160m, where you can start your day with a slightly scary cliff walk. Then a one hour hike to an alpine lake with spectacular mountain views, a perfect place for a picnic. If you want to see something different on the way back, you can hike down to the middle station Bort, where you'll find a big playground with mountain views and rent scooters to ride the rest of the way down to Grindelwald.
Hike: Easy • 2 hrs • 6 km round trip • 150 m up & down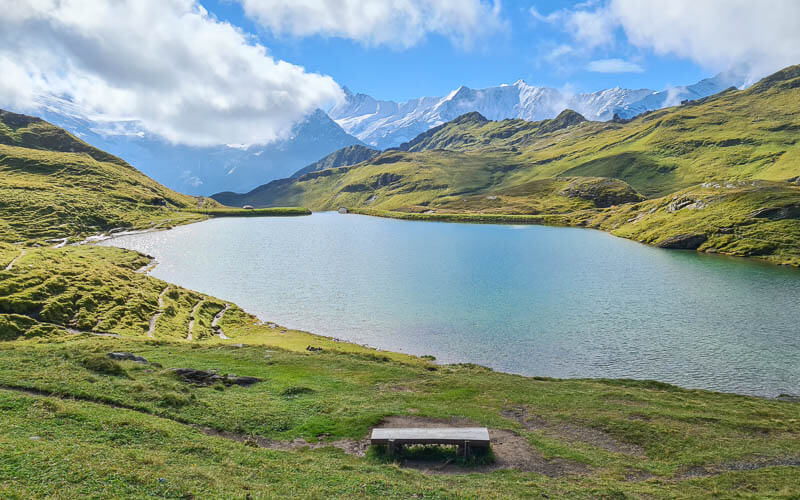 4. Lieselotte Theme Trail
If you have children aged about 5-10 that need a little motivation to keep walking, you might try the Lieselotte theme trail. The trail has 13 stations along the 3.5 km trail, including playing an alphorn and "milking" a cow.
Hike: Easy • 1h30 • 3.5 km • 600 m down
See details for the Lieselotte theme trail.
Moderate hikes
5. Eiger Northface Trail
Ride the new Eiger Express cable car to the start of this popular trail that traverses underneath the famous north face of the Eiger. From a safe viewpoint, you can see the rock wall where many climbers have died trying to reach the peak. Unlike the rock face, this trail is safe for little hikers with mostly easy walking, with a few switchbacks and rocky sections to navigate.
Hike: Moderate • 2hr30 • 6 km • 787 m
6. Pfingstegg to Bäregg mountain hut
Ride up the Pfingstegg cable car, then hike way up a narrow canyon to reach a fantastic view of the Ischmeer glacier from the Bäregg mountain hut. Have lunch then return the way you came. Nice half-day outing.
Moderate • 2.75 h • 5.4 km • ↗ 670 m ↘ 670 m
7. Schynige Platte ridge trail
This trail requires more travel time to reach the trail, but we think it's well worth it. From Grindelwald, it's about a 40 min train ride to Wilderswil, where you'll switch to a cogwheel train that slowly winds up the mountain to 1950m. Just from the restaurant, you can enjoy amazing views over the Interlaken region and two lakes. But it's even more spectacular from the trail along the ridge. It's a well built trail and not particularly dangerous. But best for those with at least a little hiking experience and proper hiking shoes.
Hike: Moderate • 2 hrs • 5.5 km • 150 m up, 160 m down
See details for Schynige Platte ridge trail
Challenging hike
8. First – Faulhorn – Schynige Platte
This is a long challenging hike starting at the top of Grindelwald First and ending at Schynige Platte, the entrance of the Jungfrau Region near Interlaken. On the way you pass by the Bachalpsee, visit the Faulhorn peak, and traverse many kilometers of beautiful mountain landscape. One of the best hikes in the region if you have the stamina to complete it.
Hike: Challenging • 6 h • 16.5 km • ↗ 630 m ↘ 840 m
Where to stay in Grindelwald
If you want explore the Grindelwald area and have limited time (3 days or less), I suggest staying in or near the Grindelwald village, not in Interlaken or Lauterbrunnen. This will minimize your travel time to reach your desired hikes and destinations. If you have more time (a week or more), then you could stay somewhere more central (like near Interlaken) that enables you to more easily access a variety of destinations, not just Grindelwald.
On a budget side, you might try the youth hostel in Grindelwald that has private rooms and family rooms in addition to the traditional dormitories. For a nicer stay, we really enjoyed the Boutique Hotel Glacier, which had fantastic views of Eiger. It also has a fantastic restaurant serving a beautiful, delicious 7 course meal (a treat for our wedding anniversary). I would definitely go back there.
If you are staying in the Jungfrau Region for more than 3 days, I'd suggest staying somewhere more central like Interlaken that enables you to more easily access a variety of destinations, not just Grindelwald. In Interlaken, I'd choose something within a 5-10 min walk of the Interlaken Ost train station to reduce travel time. On the budget side, there is the Interlaken Youth Hostel, which also has rooms for families and single travelers, not just dormitories. For mid range, you might try Hotel Interlaken or Hotel Weisses Kreuz.
Wilderswil could also be a good option, only a 3 min train ride from Interlaken Ost, 38 min from Grindelwald. Accommodations tend to be more affordable here than the other more popular villages. Historic Hotel Steinbock is a relaxed guesthouse on the river that looks adorable. People seem to enjoy the restaurant and fantastic views from the Jungfrau Hotel.
Budget Tip: Regional Travel Passes
If you stay overnight in Grindelwald, you will get get a Visitor Card that covers the local bus and gives a few discounts. Get more info here.
In addition, you can purchase a regional travel pass that covers mountain transport (free or discounted) in this region. These passes are only worth it if you plan to high price trips each day.
Jungfrau Travel Pass – available for 3 to 8 days. It covers most mountain transport in the Jungfrau region and near Interlaken, including the boat rides. It includes a discount on the Jungfraujoch journey. Starting at CHF 190/adult for a 3 day pass.
Top of Europe Pass – This pass only covers mountain transport, buses, and trains in the Jungfrau region, including the Jungfraujoch journey. It starts at CHF 239/adult for 3 days. Also available as a season pass. Learn more.
Regional Pass Berner Oberland – This pass provides free travel on bus, train, boat and 25 mountain railways in the whole Bernese Oberland region, including all mountain railways in the Jungfrau region, with discounts for Jungfraujoch and Schilthorn. This pass starts at CHF 230/adult for 3 days, available for up to 10 days.
Swiss Travel Pass – This pass includes free travel on bus, train, and boat in all over Switzerland and discounts on most mountain railways, including all those in the Jungfrau Region. It starts at CHF 232/adult for 3 days. Buy the Swiss Travel Pass.
If you are traveling with children aged 6-15, make sure to purchase the SBB Junior Card (also called Family Card). It enables children to ride free (when accompanied by an adult with a valid ticket) on all buses, trains, gondolas, cable cars, ferries in all of Switzerland. It costs CHF 30 and is valid for 1 year.
See also: Traveling Switzerland on a Budget