In summer, we love racing down Swiss mountains on alpine coasters and summer toboggan runs. For kids (and adults!), it's a nice reward after a long hike. Here are our favorite mountain coasters and alpine slides in Switzerland, tips for riding them and what to expect at the mountain.
Note: Looking for the Swiss "roller coaster" you saw on social media? It's the Gelmerbahn funicular.
Types of mountain coasters & summer toboggans
In English, this fun ride goes by many names: mountain or alpine coaster, summer toboggan/sled/luge, alpine slide, coaster bob, etc. In German, these rides are generally all called "Rodelbahn." Regardless of the name, there are two styles: fixed track coasters and toboggan slides.
Coaster with rail-guided tracks
On coasters, the bottom of the sled is attached to a rail, so it cannot leave the track. The sled typically has a back rest and seatbelt. The sleds can go very fast, up to 50 km/hr, much faster than the slide style.
Rail coasters usually have more exciting roller-coaster type features like waves and drops. Coasters are generally longer and more expensive to ride than alpine slides.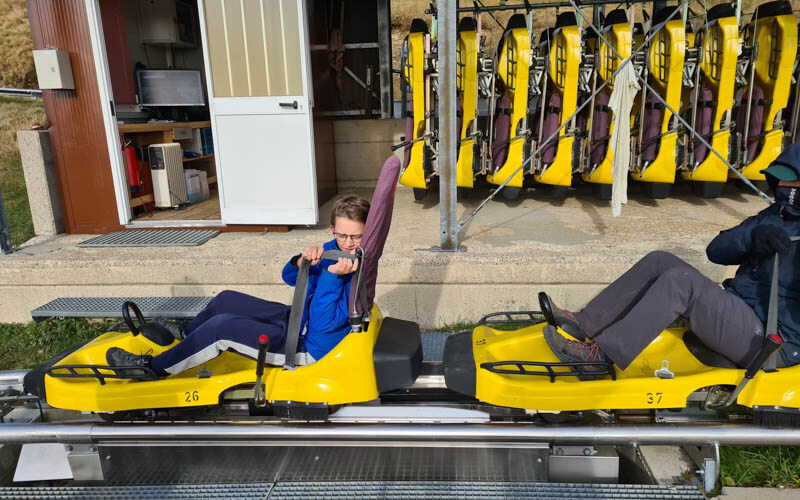 Free sliding toboggan
With the toboggan slide style, a sled moves freely on metal half-pipe slide, not attached to anything. No seatbelt.
On your first time, they may look and feel unsafe. But in general, they are quite safe if you properly control your speed. Children above 3 years old are usually allowed to ride with an adult.
On alpine slides, it is possible, though unusual, to flip the sled if you are going too fast or too slow. My husband accidentally flipped his sled going too slow with our 3 yr old around a curve and had to quickly exit the slide to avoid getting hit by the person behind him. Don't do this.
Tips for riding mountain coasters
Getting up the mountain
With most coasters and slides, you sit on the sled and a machine will drag you up to the top, either at the start or end of your ride. If your sled does not have a backrest, this can be an uncomfortable 5 mins. At the top, the sled is released from the dragging mechanism and now your control your speed with your handbrakes.
In a few cases (like the Floomzer and Pradaschier), you have to ride a chair lift to reach the the top of the coaster, which significantly adds to the price of the ride. In these cases, you can pay less if you skip the lift and hike up to the ride instead.
How to slow down and brake on a mountain coaster
On both coasters and slides, the sled has a hand brake to control your speed. The brake is either one stick between your legs or two sticks on either side of the sled. You pull back to engage the brake and push forward to release it and speed up.
The track usually has signs to tell you to slow down on tight curves. My kids like to brag that they never use the brakes, not recommended.
Riding with children
Every mountain coaster or slide has its own rules in regards to minimum height and ages. In general, children from about age 8 can ride alone. Some have a minimum height, around 120 – 135 cm, which is necessary to be able to work the hand brakes properly.
Usually children from age 3 – 7 can ride double with a teen or adult. Children under 3 are generally not allowed even riding with an adult.
Tips for going fast
The worst part of alpine coasters and slides is getting stuck behind someone who is very slow and then you have to go slow too, a complete waste of money. To avoid this, strategically place yourself in line behind teens, not a grandma or adult with a toddler.
When it's your turn to get on the sled, make up whatever excuse to delay getting on the sled, creating as much space as possible between you and the person in front of you.
For example, have trouble finding your ticket, fiddle around taking off your hat and sunglasses, fake trouble figuring out the seatbelt, go really slow out of the gate. Whatever it takes to delay your takeoff as long as possible. It works every time.
Don't lose your stuff
Most mountain coasters will let you leave your backpack at the station and pick it up after the ride. It's not a secure depot, so take your wallet with you. But best to not wear a hat – people lose them all the time (my husband did on our last ride).
Most forbid using your phone on the ride because no matter how firm of a grip you think you have, still people lose the phone on the ride and someone else gets hit with it. Be cool and follow the rules.
When to ride mountain coasters
On weekends, I suggest riding the mountain coaster at the beginning of your day. Usually the line is short or non-existent in the morning.
But by lunch time, you might have a 10-45 min wait (below shows part of the line at Sattel Hochstuckli at 13:00, about a 15 min wait). Some coasters, like Flumserberg and Oeschinensee, have discounts for morning rides, so you get more value for your money.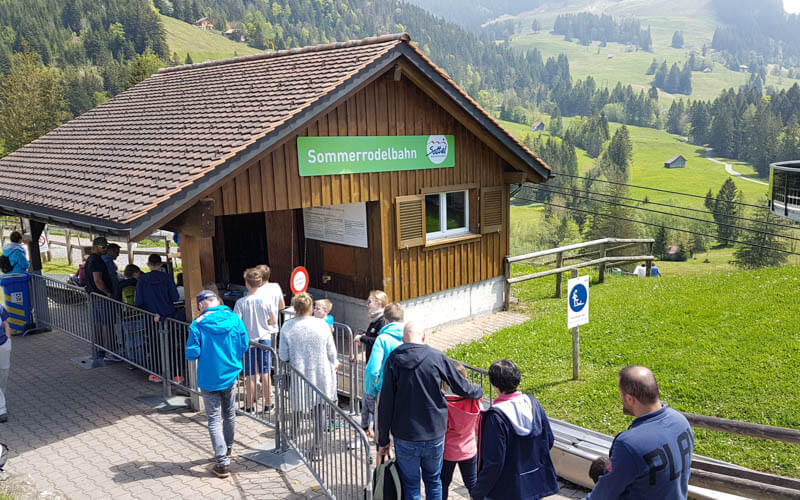 How much does a mountain coaster cost?
Usually you pay per ride, about CHF 5-9/ride. Some places give discounts for teens and children. Most require a ticket for each person even if you are riding double with a child. But a few resorts (like Kronberg) allow two riders with one ticket, a great deal!
Multipacks & Day Passes
At most places, you can purchase a multipack for a discount, usually packs of 5 or 10. The multi-pack can usually be used for different riders, not all the same person. Some resorts sell a day pass which gives you unlimited rides, like Sattel Hochstuckli and La Robella.
Mountain transport is extra
Some coasters & slides are next to parking in the valley, which means you only have to pay for the coaster. Examples are Atzmännig, Kronberg, La Robella, and Saas Fee Feeblitz.
Most other coasters are high up on the mountain, so you have to ride a gondola first to access the coaster. In that case, the mountain transport is not included in the price for riding the slide. Remember to calculate that as part of your total cost.
For example, at Oeschinensee, you need a return ticket on the gondola (CHF 30/adult) to reach the alpine slide. Each ride on the slide costs CHF 6/adult.
At a few coasters, you can hike up the mountain instead of riding the lift to the coaster start, like at Flumserberg Floomzer, Churwalden Pradaschier and Heimwehfluh. In these cases, you pay less for your ride. For example, the Pradaschier coaster costs CHF 28 with the lift and CHF 16 without.
Eastern Switzerland – near Zürich
1. Churwalden Pradaschier • Longest alpine coaster in Switzerland
The longest alpine coaster in Switzerland is the Pradaschier coaster in Churwalden, near Davos. It's over 3 km long reaching speeds up to 40 km/hr. It's fast and furious and so expensive, you'll probably only ever do it once. It's so high up the mountain, you ride a chair lift to reach the start.
If you hike up the mountain instead, you pay less but you may be too tired to work the brakes on your sled. It was so fast that I was terrified of careening off the track (though not possible as the sled is connected) and used the brakes more than I normally do. Recommended for a special occasion.
Length: 3060m
Cost: CHF 16 without lift, CHF 28 with lift, discount for children and SBB Half-fare
Website: www.pradaschier.ch
Region: Eastern Switzerland, see on map
2. Flumserberg • "Floomzer" Coaster
Every time we hike at Flumserberg, we treat the kids to this super fun coaster, a nice reward for good hike. The line for the coaster is sometimes quite long, but always worth it. Before you get on, be extra vigilant about creating space between you and the person in front of you so you don't get stuck going slow on the second half.
See our post about a weekend in Heidiland, including the Floomzer ride.
Length: 2000 m
Cost: CHF 14 without lift, CHF 22 with lift, discounts for children and SBB Half-fare
Website: www.flumserberg.ch
Region: Eastern Switzerland, see on map
3. Kronberg • Bobbahn (near Appenzell)
This fun coaster is only one of many fun amusements at the Kronberg mountain resort, including a ropes course with 25 zip lines, huge playground and treasure hunt trail.
Best to ride this first thing in the morning as lines can get long on sunny afternoons. See our post about Kronberg.
Length: 1000m
Cost: CHF 9/adult, CHF 6/child, ticket good for 2 people
Website: kronberg.ch
Region: Appenzell, Eastern Switzerland, see on map
4. Atzmännig • Toboggan Run
This alpine slide is a great ride and part of a fun mountain amusement park, including a fantastic ropes course.
But I must say that this alpine slide is overpriced for what it is. Also, they charge for both the adult and child even if you are riding double. As soon as my kids were old enough to ride alone, I skipped the fun and saved the CHF 9/adult fee.
There are lots of other fun things to do here to fill up the day, including a nice theme trail from the top of the lift. See our post about Atzmännig.
Length: 700m
Cost: CHF 9.50/ride, discount for children
Website: www.atzmaennig.ch
Region: Eastern Switzerland, see on map
Central Switzerland – near Lucerne
5. Sattel-Hochstuckli • Rodelbahn «Stuckli Run» (central Switzerland)
One ride is never enough so happily with the day pass, you can ride it as many times as you want. If you get there when it opens, you get can at least a dozen rides before it starts to get crowded.
The day pass includes the gondola ride up the mountain and unlimited use of all amusements including the alpine slide, trampolines, bouncy castles and summer tubing. There's also suspension bridge to cross and a nice panorama trail. See my post about Sattel Hochstuckli
Length: 600m
Cost: CHF 5/ride + gondola return ticket
Website: www.sattel-hochstuckli.ch
Region: Central Switzerland, see on map
6. Brunni Engelberg • Summer Toboggan (Central Switzerland)
This alpine slide is always a treat at the end of a full day of mountain fun. We usually start with the treasure hunt theme trail, ending at the barefoot "Tickle Path" by the picnic area.
Then lots of time on big alpine playground and ice cream before a quick ride on the alpine slide right before closing time at 17:00. See more details for Brunni Engelberg
Length: 660m
Cost: CHF 5/ride + cable car return
Website: brunni.ch
Region: Central Switzerland, see on map
7. Mt Pilatus • Rodelbahn Fräkigaudi
The longest alpine slide (not coaster) in Switzerland at 1350m! And perhaps the longest line in Switzerland since this tourist destination is so popular. This was our first alpine slide ride in Switzerland and where my husband flipped the sled with my toddler. So I have fond memories of this place.
We also love the ropes course here and sleeping overnight in the tree tents. And of course, riding the cable car to the top of the mountain to catch all the big views. Pro tip: do this at the start of your day. We always leave it for the end and run out of time.
Length: 1350m
Cost: CHF 9/ride, discount for children + cable car return ticket. Buy Pilatus tickets here.
Website: www.rodelbahn.ch
Region: Central Switzerland, see on map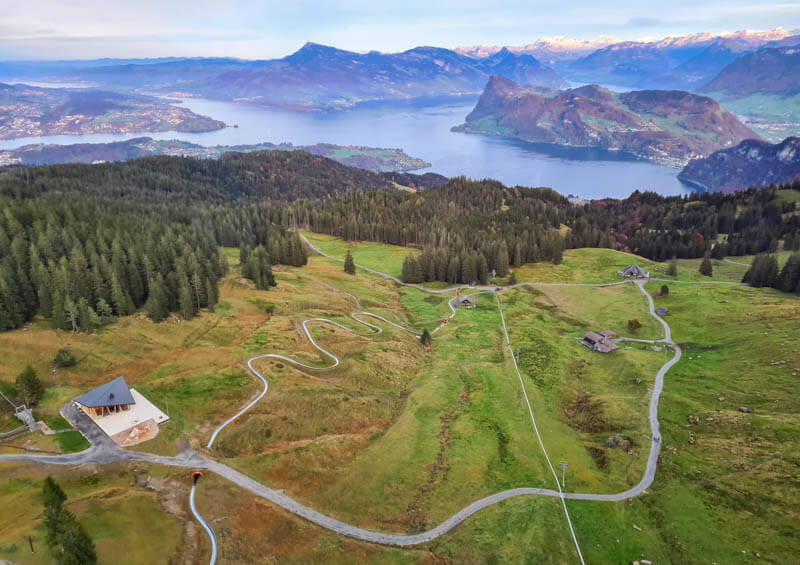 Bernese Oberland – near Interlaken
8. Glacier 3000 • Alpine Coaster (Gstaad, Bernese Oberland)
Usually a Rodelbahn is an optional treat for us. But if you go to this touristy (and wonderful!) mountain, you gotta do all the things. So just include this coaster in your budget and enjoy the ride. It's one of the best coasters with a very unique view above the glacier.
Afterwards, go bounce across the scary suspension bridge, then ride a chair lift down to the glacier ice and sled on summer snow. See my full post about Glacier 3000.
Length: 877m
Cost: CHF 9/ride + cable car return ticket. Buy Glacier 3000 cable car tickets here.
Website: www.glacier3000.ch
Region: Gstaad, Bernese Oberland, see on map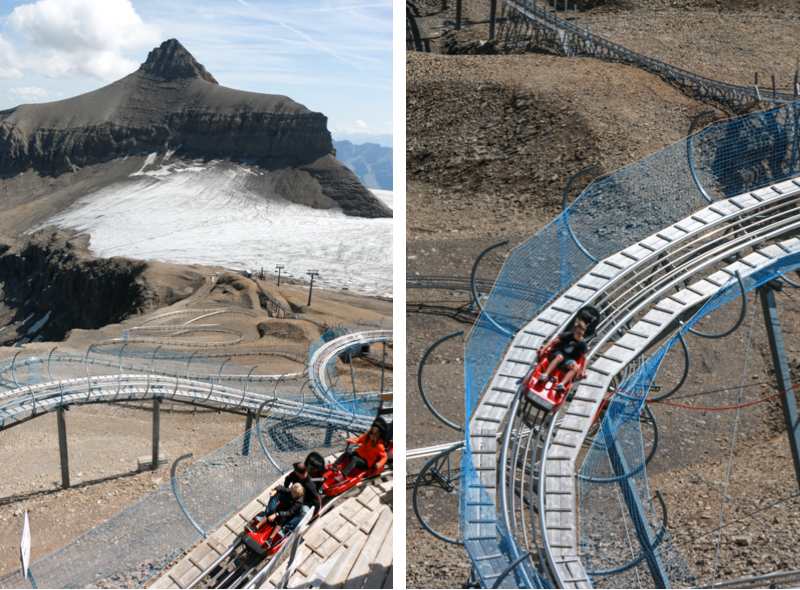 9. Oeschinensee • Summer Toboggan Run (Bernese Oberland)
Videos of this alpine slides are all over social media, so you might feel a lot of pressure to go like I did. Although it's very nice with fab views, it's not more special than other alpine slides in Switzerland.
Pro tip: the price is discounted for rides before 11:30. So get up early! See my post about visiting Oeschinensee.
Length: 750m
Cost: CHF 6/ride + gondola return ticket, discount before 11:30am
Website: www.oeschinensee.ch
Region: Bernese Oberland, see on map
Valais – near Zermatt
10. Saas Fee • Feeblitz Rodelbobbahn
This alpine coaster was a fun surprise. It doesn't look like much as you approach because it's mostly hidden in the forest. So you just hear screams of delight as people race down, but can't see most of the action until you're on it yourself.
It was super exciting and I would happily ridden it several more times if I had an unlimited budget. We settled for a round of mini golf next door. See my Saas Fee post for more details.
Length: 900m
Cost: CHF 7, discount for children
Website: https://www.feeblitz.ch/
Region: Valais, see on map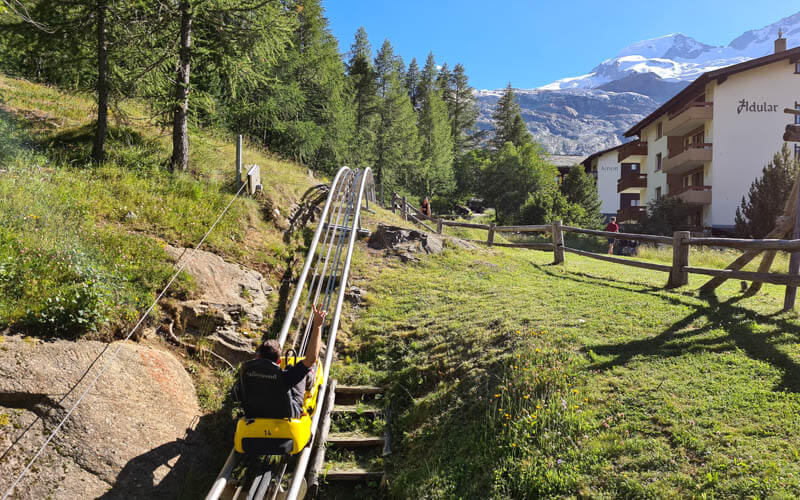 Ticino – near Lugano
11. Monte Tamaro • Coaster Bob
Loved this super fast coaster with lots of loops. Maybe we should have left this as a reward for the extra difficult hike we had ahead of us. But in this case, we wanted to avoid the afternoon lines and instead were the first customers as they opened.
We were there in October in icy cold weather, so gloves were much appreciated when using the hand-brakes. See our review of Monte Tamaro.
Length: 1000m
Cost: CHF 5/ride + gondola return ticket
Website: www.montetamaro.ch
Region: Ticino, see on map
Northwest Switzerland – near Bern and Basel
12. La Robella • Rodelbahn Féeline (Jura & 3 Lakes)
We like to get the day pass for unlimited rides on the coaster, mountain scooters and chair lift at this small mountain resort in northwestern Switzerland. Even on a sunny Sunday, there was no line so we could ride a dozen times before lunch. See our post about La Robella
Length: 1200m
Cost: CHF 7/ride or day pass for unlimited rides
Website: www.robella.ch
Region: Jura & 3 Lakes, see on map
Map of best alpine coasters & slides
See a map of all alpine coasters and slides in Switzerland
Download our free ebook