The Jungfrau Region near Interlaken is one the most popular destinations in Switzerland. It's home to the famous Eiger peak, beautiful glaciers, plentiful panoramas, gorgeous hiking, and many family friendly activities. It's a great place to stay for several days and also close enough to Zürich, Luzern and Bern for a day trip.
We've spent many days hiking there since we first moved here in 2005, visiting in different seasons and with our kids at every age. We know it can be hard to decide where to go and what to do. So here are some tips for planning your trip and favorite hikes and activities for families in this region.
Overview of Jungfrau Region
The Jungfrau Region is a mountainous area just south of Interlaken, one of the most popular tourist destinations in Switzerland.
The Jungfrau Region is shaped like a "Y." The town of Interlaken is at the entrance to the region and is the main transportation hub. From Interlaken, the region splits into two main valleys, the Grindelwald side on the east and the Lauterbrunnen side on the west.
The region can be roughly grouped into six mountain areas, as shown in the map below. Each area is serviced by cable car and mountain railways that enable you to reach mountain viewpoints and hikes without much effort.
Hikes for Families
Below are five of our very favorite hikes in the Jungfrau Region. These hikes are suitable for casual hikers, best with sturdy shoes but don't require special skills or equipment. All are included in the Jungfrau Travel Pass and discounted with the Swiss Travel Pass.
For more hiking options, particularly for younger children, see Best Jungfrau Region Hikes for Kids.
1. Männlichen Panorama Trail
If you can only do one hike in the Jungfrau region, this would be our top choice for families. To reach the trail, you can ride a cable car either from Wengen or Grindelwald Terminal. At the top, you'll find a gorgeous viewpoint, restaurants and a fun playground with swings, slides, trampolines and other amusements.
You can start with an optional detour on the short Royal Walk to a higher viewpoint. Then traverse the mountain on panorama trail to Kleine Scheidegg, where you can catch a cogwheel train back down the mountain. This trail is easy enough for children 5+ and possible with an all-terrain stroller, if a bit bumpy at times.
Hike: Easy • 2 hours with kids • 4.7 km one way •
68 m
237 m
See details for Männlichen-Kleine Scheidegg trail.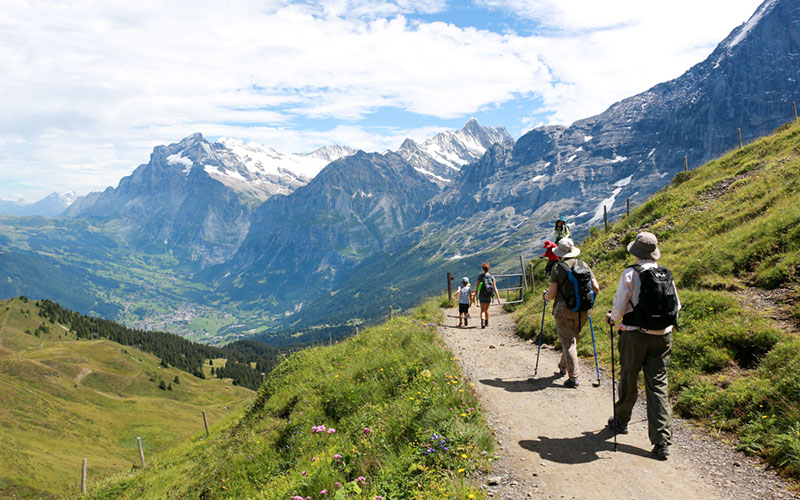 2. Grindelwald First to Bachalpsee alpine lake
Another popular choice is the lovely Bachalpsee lake, nestled between tall mountain peaks. You start by riding a gondola from Grindelwald up to First at 2167m. Before the hike, you can do a short 15 mins loop on the slightly scary "cliff walk" on a metal walkway built into the side of the mountain.
To reach the lake, follow the wide dirt service road up into the mountains. The out-and-back path is mostly obstacle free and possible with stroller, if you don't mind carrying over a couple lumpy bits. It's not a difficult hike but the uphill portions can feel a bit steep, making you feel out of breath.
At the lake, there is lots of room to spread out, take gorgeous pictures and settle in for a picnic with a view. Return the way you came on the same trail, thankfully all downhill. Back at the gondola station, older children can ride a super long zip line and ride mountain go-carts down the mountain (extra fee). On your gondola ride back down the mountain, you can stop at the Bort middle station to finish the day at a big playground with a view.
Hike stats: moderate • 6 km • 2.5 hrs with kids •
150 m
150 m
Learn more about Bachalpsee
3. Schynige Platte ridge trail
This gorgeous ridge trail is our very favorite in the region. The views are very dramatic, with cliffs dropping down to the super blue lake on one side and views across the whole Jungfrau region on the other.
To reach the trail, you ride a slow cogwheel train up the mountain to a restaurant and small playground. The trail starts with a steep climb up to the ridge, but then is relatively mild, if rocky, wander along the cliffs on a dirt path set behind fences. In July, the alpine meadows are bright green and bursting with wildflowers.
Hike stats: moderate • 2.5 to 3 hours with kids • 6 km •
150 m
160m
Get details for the Schynige Platte Ridge Trail
4. Eiger Trail
This popular trail traverses underneath the famous north face of the Eiger, where many climbers have died trying to reach the peak (64 since 1935). Unlike the rock face, this trail is safe for casual hikers, mostly relatively easy downhill walking, ending with some steep, rocky switchbacks that are bit more challenging.
To reach the hike, you ride the Eiger Express cable car up from Grindelwald. At the end of this one-way trail, you can ride a cogwheel train back down to the village. The whole trail has fantastic views across the Grindelwald valley with many mountain peaks in view.
Hike stats: moderate • 6 km • about 3 hours with kids • 787 m down
See details for the Eiger trail
5. Lauterbrunnen Valley Path
The easiest (and free) trail is through the beautiful Lauterbrunnen valley, with 72 waterfalls spilling from the cliffs on both sides and big mountain peaks all around. Starting at the Lauterbrunnen train station, it's a short stroll to the edge of town where you can visit the impressive Staubbach falls and even walk in a cave behind the roaring water.
Then follow the quiet private road up the valley, with lush alpine meadows and tall cliff walls on both sides. You can also bike this trail, renting equipment back in the village.
You can walk as far as you like and return by bus at various points along the trail. We like to walk to the Trümmelbach falls (about 1 hour) and visit that tourist attraction before returning by bus.
Hike: Easy • 1 to 2 hours • 3 to 6.5 km • slightly uphill
Details for Lauterbrunnen valley walk
See more Jungfrau Region Hikes for Kids
Amusements
Allmendhubel Flower Park
This huge playground near Mürren is one of the best ways to enjoy the Jungfrau region with kids. You can relax at the adjacent restaurant and enjoy spectacular views of the famous Jungfrau, Eiger, and Mönch peaks while the kids entertain themselves on all the amusements.
If you want a bigger experience, there are lots of hiking trails that connect here, like the Mürren Mountain View Trail. You could also visit the Schilthorn above Mürren first, then come back here for play time.
Learn more about Allmendhubel Flower Park
Grindelwald Bort Alpine Playground
From the Grindelwald First gondola, you can stop at the Bort middle station to enjoy this great playground. It has lots of climbing structures, swings, slide, mini trampoline, water play, etc. There is a restaurant nearby.
We usually visit this after visiting the First Cliff Walk and hiking to the Bachalpsee further up the mountain. From the Bort station, you can also rent kick scooters to ride down the rest of the mountain.
See our Grindelwald First post
Männlichen alpine playground
You can reach this playground with a cable car from either Grindelwald Terminal or Wengen. Children can climb into this large wooden cow and slide out its mouth. Kids will also enjoy trampolines, swings, and other amusements here, while parents soak in the view.
We typically visit this playground while doing the Männlichen Royal Walk and panorama hike to Kleine Scheidegg.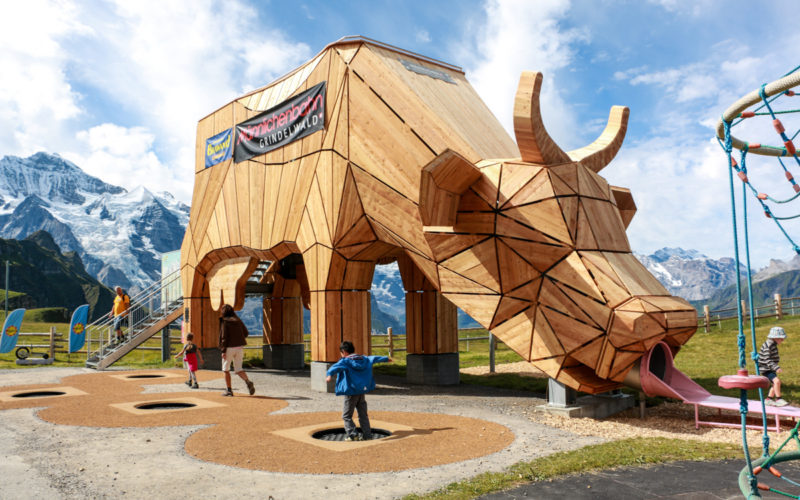 Summer toboggan
The Jungfrau Region has one summer toboggan ride at Pfingstegg. Near Grindelwald, you ride a cable car up the mountain to a lovely viewpoint and restaurant. The summer toboggan starts here and is about 725 m long. A pulley system pulls you back up the mountain so you can optionally ride it again.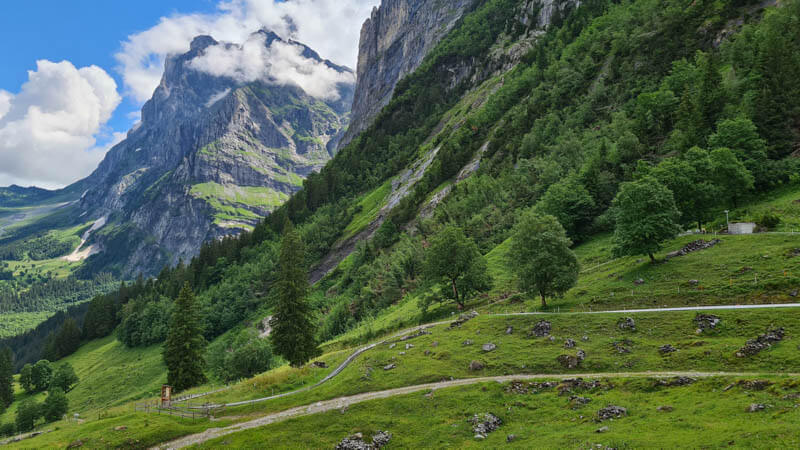 We would typically combine this with a hike down from Pfingstegg and a visit to the nearby Grindelwald Glacier Gorge. There is a also short alpine coaster at Heimwehfluh near Interlaken, with a car on a fixed rails.
Mountain scooters
The only mountain scooters in the Jungfrau Region are at Grindelwald First. From the very top of the First gondola, you can ride three-wheel mountain go-carts down to the Bort middle station. From this middle station, you can ride standing kick scooters back down to the Grindelwald village.
We would combine this with visit to the Grindelwald First Cliff Walk and possibly a hike to the Bachalpsee. They also have epic zip line ridges at the top. Learn more about the Grindelwald First amusements.
Scenic Viewpoints without Hiking
These mountain viewpoints are the most popular tourist attractions in this area and also the most expensive. Make sure the skies are clear on the webcams before paying the big bucks to ride up. They are only partially covered by the Jungfrau travel pass and other discount cards.
Jungfraujoch
This glacier viewpoint is one of the most popular tourist excursions in Switzerland. From Grindelwald, you ride the Eiger Express cable car up the mountain. Then transfer to a cogwheel train that runs through a tunnel up to the highest railway station in Europe at 3,454m.
The visitor center includes indoor and outdoor platforms where you can view the famous peaks and Aletsch glacier, the longest in the alps at 20 km. You can also explore the Ice Palace, a series of tunnels and cave carved into the glacier ice. They have a nice multimedia tour of the history of this area, restaurants, and gift shops. In summer, you can sled on the glacier and hike across the glacier to a mountain hut.
This is an expensive outing at over CHF 200 per person (price varies by season). But you get a discount with the various travel cards and passes including the Swiss Travel Pass, Jungfrau Travel Pass, Berner Oberland Region Pass, GA and SBB Half-fare card.
Learn more about visiting Jungfraujoch
Schilthorn
From the Lauterbrunnen valley, ride a series of cable cars to the Schilthorn Piz Gloria observation deck at 2970m. From here, you can admire the three famous peaks: Jungfrau, Eiger, Monch as well as a 360 panoramic view of the entire region. There is a short 007 walk at the top with information about James Bond, since scenes from one of the movies was filmed here.
Ride one station down to do the "Birg Cliff Walk" with a fun metal walkway built into the side of the cliff wall.
Learn more about Schilthorn
Grindelwald First Cliff Walk
From Grindelwald, you can ride a gondola to First at 2167m, where you can enjoy spectacular mountain views without a long hike. Behind the gondola station, there is a slightly scary "cliff walk" on a metal walkway built into the side of the mountain, about a 15 min loop. It includes a short suspension bridge and the see-through walkway shown here, with views of the Eiger.
The walkway has high railings and is safe and easy to walk, even with small children. If anyone in your group has a fear of heights, they can instead enjoy the views at the restaurant where the cliff walk ends.
Learn more about the First Cliff Walk
Männlichen
From either Grindelwald or Wengen, you can ride a cable car up to Männlichen, a high mountain viewpoint overlooking both the Grindelwald and Lauterbrunnen valleys. A short stroll from the cable car station, there is a safe fenced viewing platform over the cliffs to get the view shown here.
There are restaurants and a playground here, so you can spend more time with the view. We also suggest a short hike on the Royal Walk to a higher vantage over the entire Jungfrau Region. If you want to hike more, a few trails continue from here including the panorama trail to Kleine Scheidegg described above.
Learn more about Männlichen and the Royal Walk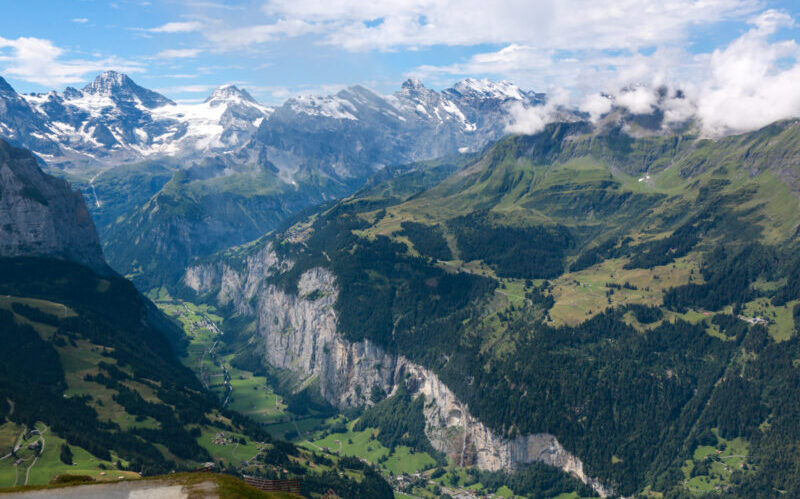 Harder Kulm
From Interlaken, you can ride a funicular to Harder Kulm, where you'll find a restaurant and viewing platform. From here, you can admire many mountains and lakes in Bernese Oberland region from a bird's eye view. This is one of the least expensive mountain railways in the region.
Learn more about Harder Kulm
See also The Best Swiss Viewpoints for Non-hikers
Waterfalls & Gorges
These impressive natural beauties are a treat in any weather. But on hot days, it's also nice to take a break from hiking and cool off near water.
Staubbach Falls
The Staubbach Falls are very close to the Lauterbrunnen village, one of most famous of the 72 waterfalls in this valley. These falls are easy and free to visit, just a short walk from the train station or parking, no gondola or long hike required. You can optionally hike up a short dirt path to a closer viewpoint, then through a tunnel to a lookout behind the water.
Details for Staubbach Falls
Trummelbach Falls
Just a short bus ride from Lauterbrunnnen, you'll find the entrance to the Trummelbach Falls, a narrow canyon carved by water melting from the Eiger, Jungfrau and Monch. A startling amount of water flows through here, up to 20,000 liters/second.
You pay a fee then ride an elevator up through the rock wall. Then you can explore the gorge on paved path, up and down lots of stairs to different viewpoints. There are railings and fences on all paths and viewpoints for safety. But everything is wet with the spray from the waterfalls, so it can be tricky to walk and smaller children will need assistance.
Note that children under 4 (even in baby carriers) are not allowed at this attraction due to safety concerns.
Cost: CHF 14/adult, CHF 6/child, under 4 not allowed
Learn more about Trummelbach Falls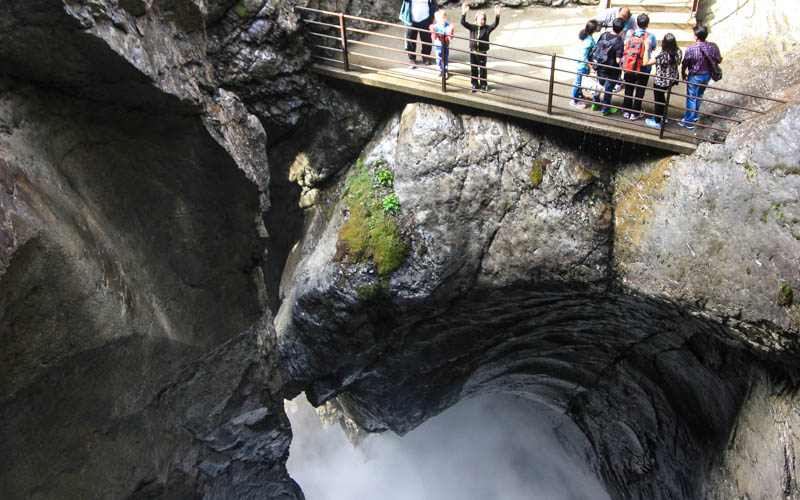 Gorner Gorge
You must pay a few to enter this gorge, then walk on an elevated walkway built into the canyon wall. You can walk pretty deep into the gorge, about an hour there and back. They have a a few amusements include walking on a net over the river and an exciting canyon swing for an extra fee.
Details for Grindelwald Gorge
Here are few more waterfalls and gorges just a short drive outside the Jungfrau region, but not covered by the Jungfrau travel pass.
Rainy Day in the Jungfrau Region
St. Beatus caves
This impressive cave system is just a 15 min bus ride from Interlaken, making it an easy choice for a bad weather day. I'd plan about 1 hour for a self-guided tour of the caves. Details here.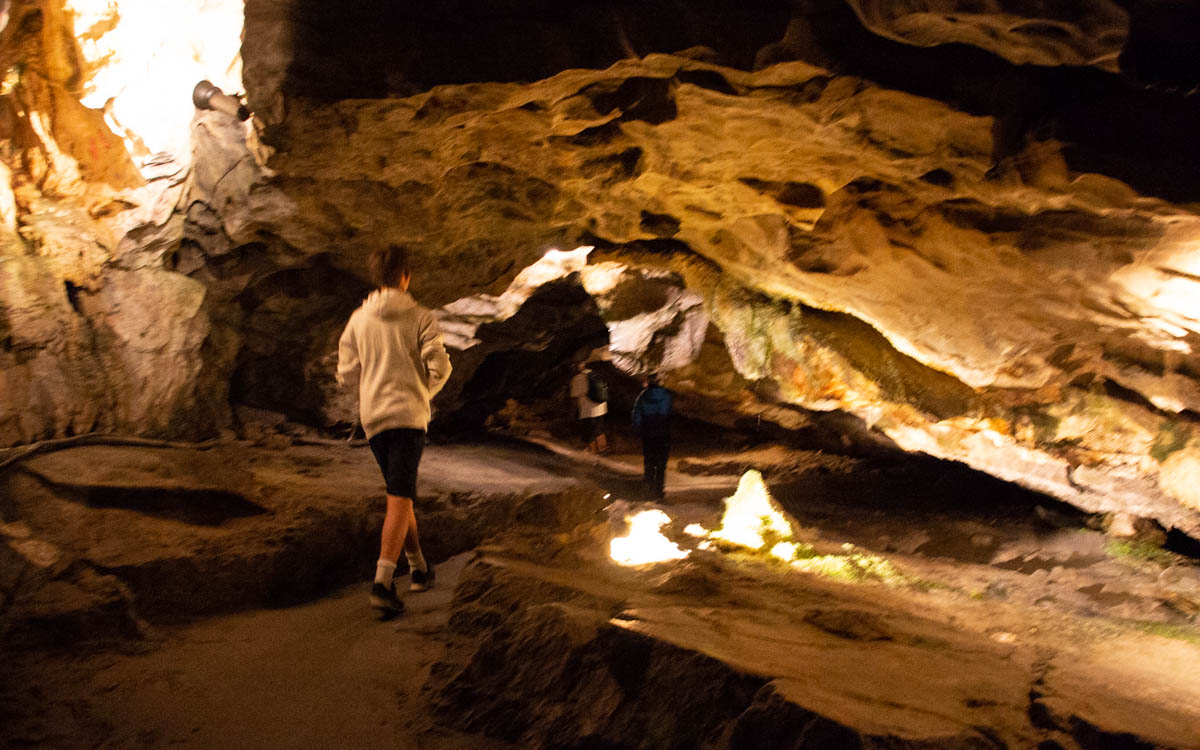 Thun village & castle
If clouds are obscuring the peaks but it's not raining too hard, it's nice to wander around a charming town and Thun is one of the nicest near Interlaken. See details here.
Indoor swimming
In Grindelwald, the Sportszentrum Grindelwald has an indoor pool and other amusements. For a big water park, the closest is Bernaqua, about an hour drive from Interlaken.
Museums
Near Interlaken, you can visit the Trauffer visitor center, where they make the classic wooden cow and other toy figurines you'll see all over Switzerland. Otherwise, best to head to Bern, which is full of lots of interesting and fun museums in Bern. One we particularly liked with kids was Zentrum Paul Klee.
Logistics
How to get to the Jungfrau Region
The Jungfrau Region is a mountain area near Interlaken, about an hour drive south of Bern.
By car: Drive to Interlaken, then into either the Grindelwald or Lauterbrunnen valley.
By public transport: Take a train to Interlaken, then switch trains to either Grindelwald or Lauterbrunnen, depending in which are you want to hike.
By plane: If you are flying into to Switzerland, Bern is the closest to the Jungfrau region, 1hr35 by train. But it's only 2hr40 from Basel or Zurich. Just pick the best flight in terms of price and convenience.
Where to stay in the Jungfrau Region
The most convenient areas to stay are Interlaken, Grindelwald or Lauterbrunnen. Each of these areas has many services: stores, restaurants, and hotels. They are also well connected by public transportation and make it easy to reach the different parts of this region or travel outside the region.
Many people stay in Interlaken because it is very convenient (close to public transportation) and there are lots of hotels and tourist services in this city. However, it's packed with tourists and not particularly charming. We haven't particularly liked the places we've stayed in Interlaken, so I won't recommend them here. If you do stay here, make sure to stay within a very short walk of either Interlaken train station since some buses in this area don't run very frequently.
I prefer to stay in Lauterbrunnen because it is close to many of the hikes I want to do, meaning my travel time at the beginning and end of my day is reduced. This is particularly important when traveling with children who have limited patience. We enjoyed our stay at Hotel Oberland many years ago. For budget travel, we've also stayed at Camping Jungfrau, which has shared bunk rooms as well as private bungalows.
I also like Wilderswil because it's also conveniently located to all the public transportation connections, but much smaller and more charming than Interlaken.
It can be fun to stay in one of the mountain villages, like Gimmelwald, Murren or Wengen, especially if you rent an apartment in an old traditional Swiss home with lots of character. Although the towns are "car free," they offer luggage services to get your stuff from the cable car to your hotel. Each of these towns have small grocery stores and restaurants, so you're not completely isolated. But they are quieter, especially in the mornings and evenings when most tourists have left.
However, it can be time consuming, expensive, and slightly annoying to have to ride down a cable car each time you want to visit a different mountain than the one you are already on. With kids, we sometimes pick convenience over charm.
Of course, there are many hotels in all these areas. But if you are staying for 3 days or more, I recommend renting an apartment, as it is much cheaper than a hotel and more comfortable with kids.
How to travel around the Jungfrau Region
The Jungfrau region is well connected with public transportation, so you don't need a car. However, train travel and mountain railways are very expensive in Switzerland. So consider buying one of the travel passes or cards listed below, which includes "free" travel on public rail, bus and water routes and discounts on mountain transit, like cable cars and funicular trains.
SBB Junior Card – entitles kids aged 6 to 15 free travel on all public transport and most mountain railways, when traveling with a parent with a valid ticket. As of 2019, it costs 30 CHF per year. Children 5 and under travel free on public transportation, including most mountain transport.
Jungfrau Travel Pass – includes travel on almost public transport from Interlaken into the Jungfrau Region and almost all mountain transport in the region, from Interlaken. This is the most affordable way for tourists to see this region. The pass is available for 3 to 8 days. In 2019, a 3 day pass costs CHF 190. To visit the Jungfraujoch, it's an extra CHF 74 (or CHF 61 in low season).
Swiss Travel Pass – includes travel on all public transport throughout Switzerland and 50% on most mountain transport in the Jungfrau region, 25% on the Jungfraujoch train. Available for 3 or more days.
SBB Half-fare Card – if you live in Switzerland, it makes sense to get this card gives you 50% travel on all public transport and most mountain transport