Switzerland is world famous for its delicious chocolate. Whether you are traveling to or living in Switzerland, you should indulge in the many fun chocolate experiences in this country, including chocolate factories with visitor centers, workshops, tastings and chocolate-themed city tours.
Chocolate Factories & Museums
Most of these chocolate factories are all pretty similar: a multi-media tour about the history of chocolate through the ages and specifically in Switzerland, how cocoa beans are grown, harvested and processed, view of factory equipment, and a chocolate tasting.
At the end of the tour, you can often make and decorate your own chocolate bar for an extra fee (about CHF 10). Many chocolate factories also offer more in depth chocolate workshops that must be booked in advance.
Which chocolate museum is the best?
As I detail below, some have more fun activities for the kids, some have slicker presentations, some are info heavy, others are more entertaining. I would just pick one that is the closest to where you are. They are all fun!
1. Lindt Home of Chocolate (near Zürich)
Everyone was so happy Lindt finally opened a chocolate museum at its Kilchberg factory near Zürich. Their interactive museum is beautiful and very educational, with an immense amount of information both on displays and through the audio guide. Although there are a few games for kids (and an audio guide specifically kids), it's not the most entertaining option on our list.
We liked the multiple chocolate tasting stations through the museum, including chocolate fountains and a dispenser where you have to guess the chocolate flavor. They also offer chocolate making workshops, which are particularly popular for holidays like Christmas and Easter where you make the signature bear and bunny shaped chocolates.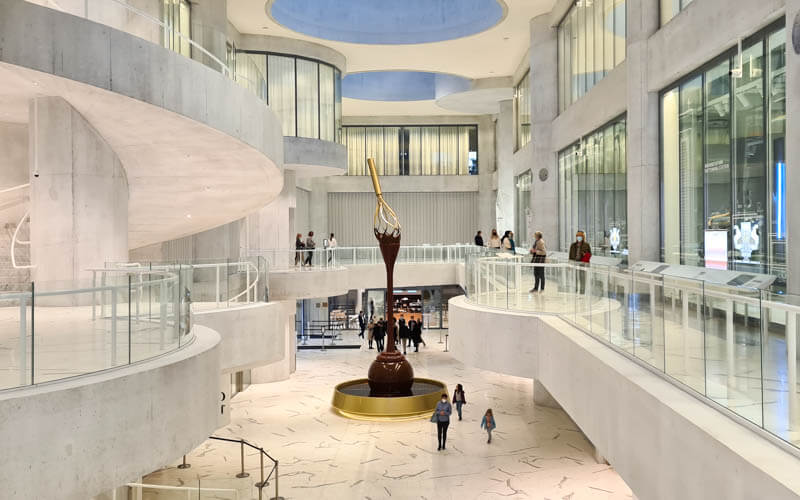 Website: www.lindt-home-of-chocolate.com
Address: Seestrasse 204, 8802 Kilchberg
Open: daily 10:00 – 18:00 (closed on some holidays)
Cost 2023: CHF 15/adult, CHF 10/child aged 8-15, under 8 free. Buy tickets here
See our full review of Lindt Home of Chocolate
2. Mastrani Chocolarium – best for kids! (near Appenzell)
This chocolate factory and museum is our favorite of the bunch because it's all about the fun, with wacky styling influenced by Willy Wonka. So many interactive exhibits to keep the kids busy: buttons to push, knobs to pull, dials to spin and selfie booths with props.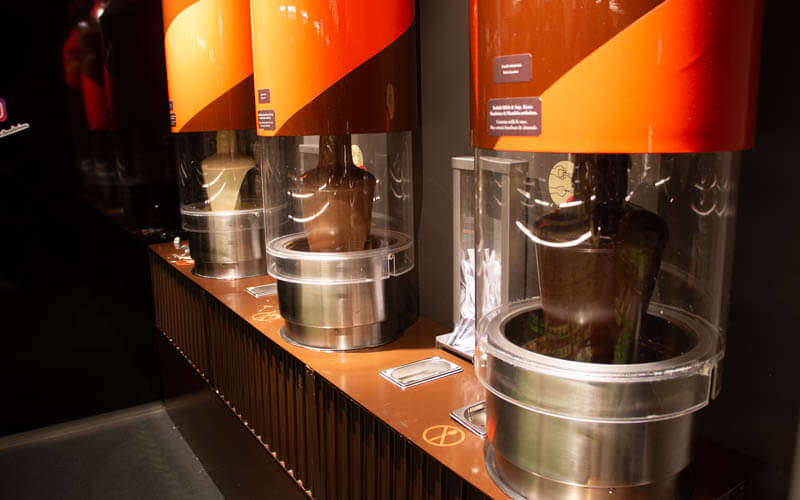 During the week at certain hours, you can see the real factory machines running, forming and wrapping real chocolates, not fake machines just for display like at other chocolate factories.
There are lots of chocolate tasting throughout the tour, including chocolate fountains and dispensers of flavored chocolate bars. At the end of the tour, you can decorate a chocolate bar for CHF 10. They also have a variety of chocolate workshops which must be booked in advance.
Website: www.chocolarium.ch
Address: Toggenburgerstrasse 41, 9230 Flawil
Open: Tues – Fri 10:00 to 18:00, Sat & Sun 10:00 to 17:00 (see current schedule)
Cost 2023: CHF 14/adult, CHF 8/child aged 6-16, under 6 free.
See our full review of Maestrani's Chocolarium
3. Maison Cailler – the classic (near Lausanne)
It's all about the history here, since Cailler was the first proper chocolate maker in Switzerland. The history part of the tour has a multi-media show about the history of Swiss chocolate that moves you through a series of rooms as doors close behind you. So you can't move freely around following your interests. But once that part ends, you can freely explore the chocolate production area.
The chocolate tasting has changed for the pandemic, with individual disposable cups holding 4 different pralines, instead of a long buffet. But you can still eat as many as you like. You can decorate a chocolate bar in the gift shop. They also offer chocolate workshops that must be booked in advance.
Website: cailler.ch
Address: Rue Jules Bellet 7, 1636 Broc
Open: daily 10:00 to 17:00 (except 25 Dec and 1 Jan)
Cost 2023: CHF 15/adult, CHF 12/students and seniors, CHF 5/child 6-15, under 6 free.
See our full review of Maison Cailler.
4. Chocowelt by Aeschbach (near Lucerne)
Aeschbach is well known in Switzerland as the producer of the Schoggitaler chocolate coins sold by school children as a fundraiser (my kids have done this every year). Like other chocolate factory visitor centers, you walk through a series of decorated rooms with a variety of interactive display teaching you about the history and production of chocolate.
During the tour you can sample chocolate, including small chocolate cubes of varying cocoa percentages, chocolate coins and chocolate fountain with toppings. On weekdays you can see people working on the chocolate factory floor. After the museum tour, you can make your own chocolate bar for CHF 10.
Website: aeschbach-chocolatier.ch
Address: ChocoDromo 1, 6037 Root
Open: daily 10:00 to 17:00 (excluding public holidays)
Cost 2023: CHF 15/adult, CHF 8/child aged 6-16, under 6 free.
See full review of Chocowelt from Our Swiss Experience
5. Max Chocolatier (Zürich & Lucerne)
One of the best chocolatiers in Switzerland, with wide range of luxurious chocolate confections. We particularly like their unusual praline flavors like rosehip & hibiscus tea and madarine & safron. At their Zürich and Lucerne locations, they host offer a 60 mins chocolate tasting for up to 4 people for CHF 300. At the Lucerne location, they offer chocolate workshops ranging in price from CHF 340 – 600 for up to 4 people.
Zürich: Schlüsselgasse 12, 8001 Zürich
Lucerne: new location opening Jan 2022
Booking: maxchocolatier.com
See our full review of the Max Chocolatier tasting & workshop.
6. Chez Camille Bloch – Discovery World (near Bern)
While the chocolate museum does tell a little about the general history of chocolate, it focuses more on the history of the Swiss chocolate industry, the Camille Bloch family and the popular Ragusa and Torino chocolate brands. The museum is quite stylish and fun to explore.
I particularly liked the live chocolate making demonstration, where the friendly chocolatiers temper chocolate on the marble and create the confections by hand, so you can really see the work and skill that go into make the treat. Then you can taste the items made during the demo. They offer a children's birthday workshop, where they make Ragusa bars and chocolate fondue.
Website: www.chezcamillebloch.ch
Address: Rue Jules Bellet 7, 1636 Broc
Open: summer season Tues – Sun 9:30 to 18:00 (see current opening times)
Cost 2023: CHF 15/adult, CHF 9/child aged 6-16, under 6 free with parent.
See our full review of the Chez Camille Bloch
7. Alprose Chocolate Experience (near Lugano)
Alprose is not as well known to consumers as other Swiss brands, but it's quite delicious. They make one of my favorite dark chocolates, particularly for baking. We like this company because their chocolate is produced CO2-neutrally and they use sustainable packaging materials. In addition to general chocolate history, the Alprose chocolate museum focuses on the story of the Alprose brand.
This museum is not quite as fancy as other chocolate factories, but they have one of the best live factory floor experiences, with many chocolate machines in view (running only on weekdays). At the end of the tour, you can taste chocolate in their "Nostalgia" shop.
Website: www.alprose.ch
Address: Via Rompada 36, 6987 Caslano
Open: Mon – Sat 9:00 – 17:00
Cost 2023: CHF 5/adults, CHF 2/children aged 6-15, free under 6 yrs old
8. Swiss Chocolate Adventure at Swiss Museum of Transport (near Lucerne)
This chocolate tour is an optional paid attraction at the Swiss Museum of Transport (aka Luzern Verkehrhaus), not included with your museum entrance fee. On the "Swiss Chocolate Adventure", you ride through 10 rooms on an automated traveling cart, learning about the history of chocolate, the ins and outs of chocolate production and the Swiss chocolate industry.
Our friend Hana reported on this for us and thought it was a little expensive for what you get compared to other chocolate factories in Switzerland. For example, instead of "all you can eat" chocolate tastings, you only get two Lindt chocolate balls during the tour.
The website says that visitors of the Swiss Chocolate Adventure may participate in the chocolate tastings at the Lindt gift shop there, including a chocolate fountain, implying this is included with your ticket. We'll have to investigate this next time we go.
Website: www.verkehrshaus.ch
Address: Lidostrasse 5, 6006 Luzern
Open: Tours start at 13:00 on weekdays and 11:00 on weekends.
Cost 2023: CHF 18/adults, CHF 14/students (17-26), CHF 8/children under age 16
Chocolate Tastings
These Swiss companies offer chocolate tastings for small groups.
8. Honold Schoggitram (Zürich)
For a couple weeks at the end of October and beginning of November, the Honold Confiserie hosts a chocolate tram, where you ride around the city for about 20 mins while you drink hot chocolate, eat cake and taste a variety of chocolate pralines. There are limited spots, which book out quickly. So put this on your calendar and start checking the website in late September.
Location: Zürich Bellevue tram stop
Cost: CHF 20/adult, CHF 10/child under 16
Duration: 30 minutes
Booking: www.honold.ch
9. Garcoa Schoggi Safari (Zürich)
Garcoa is a small batch "bean to bar" chocolate company, producing high quality chocolate bars in close cooperation with cocoa farmers. Their chocolate bars are carried in many specialty shops throughout Switzerland.
They offer a fantastic "Schoggi Safari" tour, where you learn about their chocolate production process in their small facility and taste all their chocolate bars. The safari is only available a few times a year.
Location: Butzenstasse 60, 8038 Zurich
Duration: 60-90 mins
Cost: CHF 20/person
Booking: www.garcoa.ch/schoggisafari
10. La Flor (Zürich)
La Flor is a gourmet small batch chocolate produced in Zürich and sold at fine resellers around the city. On two afternoons a week, you can visit the La Flor production facilities in Zürich for free and sample their chocolates.
Location: Uetlibergstrasse 65, 8045 Zürich
When: Thurs & Fridays 15:00 – 18:00
Cost: free
More info: laflor.ch
Chocolate Workshops
These locations offer chocolate making workshops, but do not have a factory floor or chocolate museum. We haven't tried any of them. I just leave them here as reference.
11. Funky Chocolate Club (Interlaken)
If you are traveling to the Jungfrau Region, the closest chocolate experience is at the Funky Chocolate Club in Interlaken. They offer chocolate workshops, where you learn about the origins of chocolate then learn how to create a chocolate bar from tempering the chocolate to pouring and filling techniques. You also get to eat as much chocolate as you like during the workshop. Workshops are held in English and last 75 minutes. Must book in advance.
Address: Postgasse 10, 3800 Interlaken, Switzerland
Open: generally workshops Wed – Sun at 11:00, 14:00, 16:00, 18:00
Cost: Chocolate workshop CHF 69/adults, CHF 59/children aged 4-14
Booking: funkychocolateclub.com
12. Choco Emotions (Neuchatel)
Choco Emotions offers a variety of workshops, which can be booked for a group (usually a minimum of 8-12 participants). The owner wanted to keep alive the chocolate tradition of Suchard, which used to have its factories in the Neuchâtel. The website is only in French, so I assume the workshops are also held in French. We haven't tried Choco Emotions workshops ourselves, so we can't vouch personally for the experience.
Address: Rue des Amandiers 2, 2000 Neuchâtel
Open: private groups on demand
Cost: Workshop prices range from CHF 25 – CHF 95
Booking: www.choco-emotions.ch
Chocolate Tours
13. Self-Guided Chocolate Tour of Zürich
Visit the 10 best chocolate shops in Zürich while seeing some of the best parts of city on this self-guided walking tour. It's free to use. You're only cost is any chocolate you want to buy along the way. See map and details for Self-guided Chocolate Tour of Zürich
Cost: free tour, suggested budget of CHF 20/person for chocolate tastings along the way
Duration: about 90 mins (3.3 km)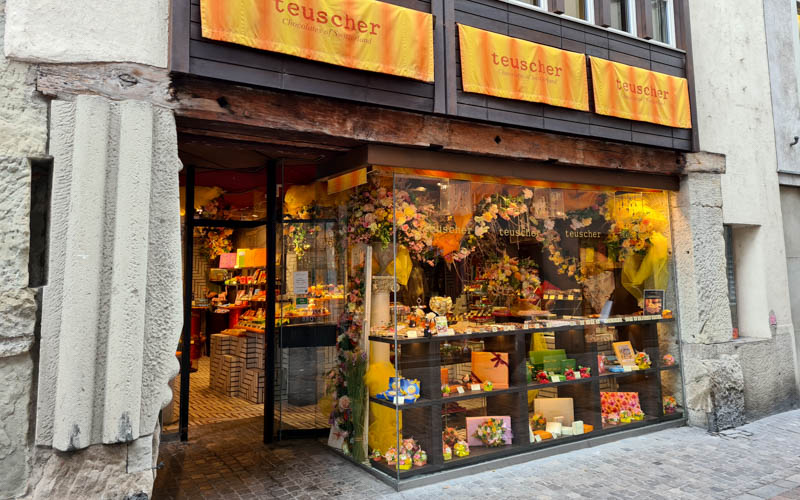 14. Chocolate Indulge Tour of Zürich
This private tour visits a variety of confectionaries, artisan chocolatiers and other chocolate sites as you walk around Zürich. Along the way, you learn about Swiss chocolate history and taste a variety of sweets. At the end of the tour, you learn how to taste and pair chocolate with a connoisseur.
Dates: available for booking on weekdays
Cost 2023: 1-3 people CHF 320, cost varies for larger groups
Duration: 2.5 hrs
Booking: www.zuerich.com
15. Geneva Chocolate Walking Tour
On this three hour walking tour of Geneva, you'll visit 5 chocolate factories and patisseries and taste several chocolate confections along the way.
Dates: English tours on Mon – Sat 10:00 and 14:30
Cost 2023: CHF 99/adult, CHF 69/child
Duration: 3 hours
Booking: www.geneve.com
Note: Frey used to have a great chocolate visitor center but it sadly closed permanently during the pandemic. We have not included Läderach because, like SWISS air and others, we do not agree with their leadership's outspoken views against the LBGTQ+ community and women's rights.