Andermatt is a beautiful mountain resort south of Lucerne, a great summer destination for anyone who loves the Swiss alps. Whether you like to hike, bike, climb, or just enjoy the view with yummy food, there's something for everyone. Here are the best activities in Andermatt, particularly for families, whether you are planning a day trip, weekend getaway or summer vacation.
Note: Our stay and activities were hosted by Andermatt+Sedrun+Disentis, Andermatt Tourismus and Radisson Blu Hotel.
Overview of Andermatt
Andermatt is located in the middle of Switzerland, about 1 hr south of Lucerne by car. See on Google Maps.
Here is a part of the Andermatt summer map, showing the dozens of hiking and mountain biking trails on all sides of the village (download full map). Four mountain cableways operate in summer, making it easier for families and casual hikers to access some trails. The Andermatt village itself is small and walkable so you don't need a car to get around.
Activities
1. Culinary Trek
On this round trip outing, you explore the mountains above Andermatt and visit three restaurants along the way. You start by riding the gondola up to the Nätschen. Using your stamp card, you can get a hot drink and a croissant at the restaurant. Children can enjoy the playground in front of the restaurant while you soak in the view.
Then a hike across this rocky landscape to the Schneehüenerstock cable car and restaurant that you can see in the distance.
At Schneehüenerstock, you'll have a lunch of traditional Älpermagronen, which is a cheesy pasta with fried onions, ham and applesauce (vegetarian and vegan options available). And of course, gorgeous views all around.
After your meal, you can either ride the gondola or hike down the mountain to the Oberalppass. We chose to hike down and spending more time with this beautiful landscape.
Both the gondola and hike drop you at the Oberalppass, where you can have dessert at Gasthaus Piz Calmot. After dessert, you'll ride the train back to Andermatt.
This culinary hiking package including the three meals described above as well as your gondola tickets and train ride back to Andermatt at the end of the outing.
Starting point: Andermatt – Gütsch Express gondola
Hike: moderate • 4 km • 1hr15 230m up
Cost: CHF 75/adult, CHF 41/child, discount with Guest Card Gold, SBB GA, Half-fare, and Junior Card.
Learn more • Book package online
2. Matti Family Paradise alpine playground
For a fun day without hiking, children will love Matti Family Paradise on the mountain above Andermatt. This brand new playground opened in summer 2022, with tall slides, swings, bouncy pads, obstacle course and more.
There are lot of different kids of obstacles so children of all ages will find something to enjoy here.
The playground is right in front of the Nätschen Restaurant. It has indoor and outdoor seating, with a panorama terrace where you can relax while the kids play.
How to get there: Ride Gütsch Express from Andermatt to the middle station Nätschen. The playground is next to the cable car station.
Cost: No fee to use playground. Gondola return CHF 23/adult, CHF 12/child age 6-15, under 6 free. Discount for families, SBB GA and Half-fare cards if purchased in person. Dogs travel for free.
Open: July through mid October, same opening times as the gondolas
3. Matti Climbing Paradise
For a bit of adventure, we suggest the Climbing Paradise near the Matti playground. There are four climbing ropes that use an auto belay device, so you don't need climbing experience. Once your harness is attached to the auto belay, you can sit in your harness and the auto belay rope will slowly lower you down to the ground. Each rope has route of varying difficulty, so beginners to advanced can all have fun here together. The climbing guide speaks English and is very friendly and helpful.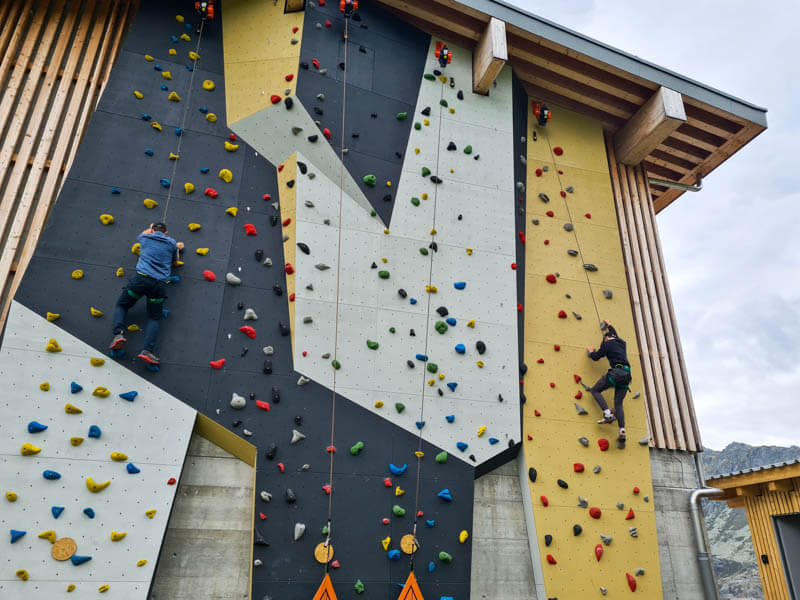 How to get there: Ride the Gütsch Express gondola to the Nätschen station. The Climbing Paradise is behind the restaurant on the back wall of the building.
Cost: CHF 5 for a day pass and you can climb as much as you like. However, on sunny weekends, you may need to wait a bit for your turn.
Open: Mon-Fri 11.30 16:00, Sat-Sun 9:30-12.00 and 12:30-15:30.
Learn more about the Climbing Paradise.
4. Schöllenen Gorge & Devil's Bridge
This spectacular gorge is a defining feature of the Andermatt region. Without this bridge, travel and commerce over the Gotthard mountain pass was impossible.
On the short circular walk over the bridge and to different viewpoints, you can learn about the history of this area and the bridge. For more detailed information, you can purchase the interactive Actionbound audio tour for CHF 9 and download it on your phone.
How to get there: Either a 10 min walk from Andermatt (see walking map) or drive and park at the gorge (46°38'48.0″N 8°35'25.5″E)
Cost: free, optional audio guide for CHF 9
Open: trail open June – October
5. Smuggler's Trail
If you enjoy history and culture, you'll enjoy the Smuggler's Trail, an interactive walking tour of the Andermatt village. Using a mobile app, you learn interesting facts as you solve clues to find your next destination on the trail. You'll answer questions to earn points based on what you learn along the way.
To set your expectations correctly, this is more of a walking tour with a few amusements, not an exciting "escape the room" type activity for children. This would be a good activity for a cloudy day when the mountain views are obscured.
We suggest the shorter Sprinter trail which takes about 1.5 hours. It's available in English and German. Best to have full battery on your phone. At the end, you'll get a small prize if you crack the code.
How to get there: Check in at the Tourism Office next to the Andermatt train station – Gotthardstrasse 2, 6490 Andermatt
Cost: CHF 15/adult, CHF 9/child 4-16, discount with Andermatt Guest Card
Open: May – October
6. Sunday Brunch at Schneehüenerstock
For a special experience, enjoy Sunday brunch at the top of the mountain at Schneehüenerstock. You ride a gondola up to 2600m and enjoy an all-you-can-eat brunch buffet with a fantastic view. It's quite a social event with many groups of friends and family meeting here. This would be a great choice if you are traveling with grandparents or anyone with limited mobility that wants experience the alps.
The buffet includes a variety of pastries, eggs, bacon, bread, cheese, meats, bircher müesli, juice, coffee, etc. Near lunch time, they also offer warm dishes like pasta and rösti.
Perhaps my favorite part was lounging in the sun with this view before going back for round two.
How to get there: From Andermatt, either drive or take a train to the Oberalppass. Then ride the gondola up to Schneehüenerstock. The restaurant is downstairs from the gondola station.
Cost: CHF 50/adult, CHF 23/child 4-16 for both brunch and gondola ride. Best to book in advance as spots are limited.
Open: July through mid October, Sundays 10:00 – 14:00
7. Lai da Tuma alpine lake hike
This little oasis is the source of the mighty Rhine river. From the Oberalppass, it's a 4 km hike uphill on a rocky path to reach the lake. Once you arrive, there's plenty of room to spread out, with grass for running, boulders for climbing and wild blueberries for picking. For a little extra effort, you can hike to the mountain hut above the lake for lunch or a special overnight.
How to get there: From Andermatt, either drive or take a train to the Oberalppass. The hike start here, following signs to Lai da Tuma (aka Tomasee).
Hike: Moderate • 3.5 h • 8 k • 460m up/down
Cost: free
When to go: July through mid October
8. Mountain biking
Andermatt is a popular destination for mountain biking, many km of biking trails in the mountains and valleys. With the BikePass and Matterhorn Gotthard Bahn, you can travel by bus or train your bike to many trails in the Andermatt region. If you want to take it easy, you can use public transport to skip the uphill and just enjoy the fun downhill part. Browse Andermatt biking tours…
If you like flow trails, you'll enjoy the 4 km Catrina trail in Disentis, descending 350 m. You can practice your skills right in Andermatt at the Bike-Trailpark near the train station.
9. Bergsee Mountain Hut
If you want to experience a mountain hut, the Bergseehütte is one of the easiest to reach, only 2.8 km up to the hut. An overnight stay includes a traditional hut dinner and breakfast, plus the gorgeous sunset and sunrise. If you are doing a day trip, you can have lunch here and/or do a longer hike around the large lake below the hut.
How to get there: From Andermatt, take a train to Göschenen, then a bus to Göscheneralp, Dammagletscher. By car, drive to 46°38'56.0″N 8°29'58.4″E.
Hike: Moderate • 3.5 h • 8 k • 460m up/down
Cost: parking fee or bus fare to reach hike • overnight in hut incl. dinner and breakfast CHF 77/adult (2022, see current prices)
When to go: July through mid October
Where to stay in Andermatt
Note: Our overnight stay was hosted by Radisson Blu Hotel Reussen, Andermatt
Although Andermatt is a small village, it has many hotels and holiday apartments, from classic Swiss inns to modern hotels. We stayed at the Alpine Apartments of Radisson Blu Hotel Reussen, Andermatt in a two bedroom residence. It's conveniently located a short walk from the train station, Gütsch Express gondola and village center. So we never needed our car during our stay.
It was beautiful and comfortable apartment with two roomy bedrooms, two baths, a kitchen and dining area, cozy living room and balcony with a mountain view.
At any accommodation, overnight guests receive a free Guest Card Crystal which includes a variety of discounts and vouchers for amusements in the Andermatt Holiday Region. For fee, you can upgrade this free pass to Guest Card Gold for 2 – 7 days, which includes free use of the four mountain railways in the region.
How to get to Andermatt
Andermatt is easy to reach by car or train. Once in Andermatt, you don't need a car the village is small and all activities can be accessed by foot or public transportation.
By car
If you are coming from the north (Lucerne, Zürich, Bern), you will drive south on the A2 highway, taking exit 40 direction Göschenen. The follow signs to Andermatt, driving on a winding two lane road up the mountain. See route on Google Maps. It's a well built wide road but is curvy, which may disturb some travelers.
Note that there is often stopped traffic on the A2 as you approach the Gotthard Tunnel. It can be especially bad on weekends and holidays, with up to an hour wait to get to your exit. Check traffic conditions on TCS.ch (in German, French, Italian).
Travel time by car (no traffic): From Lucerne 1hr, from Zürich 1hr40, from Zermatt 2hr20
If you are coming for the day, we would suggest parking near the Andermatt train station in the P1 or P2 outdoor lots (46°38'19.9″N 8°35'31.9″E). If you are staying overnight and your accommodation does not have parking, only two lots allow overnight parking: Andermatt Reuss Parking garage (Bielstrasse 12, 6490 Andermatt) and the P1 outdoor lot. See more Andermatt parking options.
By train
Typically, you will take a train to Göschenen and transfer the "Matterhorn Gotthard Bahn" cogwheel train, which takes you to the "Andermatt, Bahnhof" train station. Check the train schedule on SBB.ch.
Travel time: From Lucerne, Zürich, or Interlaken 2hr, from Zermatt 3hr10
Nearest airport
The Zürich airport is the closest to Andermatt, a 2hr20 journey by train.